Our long thanksgiving weekend was quite busy and involved lots of driving. On Thursday we drove to Grandma Theresa's house. Before leaving we made sweet mashed potatoes. Thanks for the recipe Liz! Here's Colin helping Mom with the finishing touches.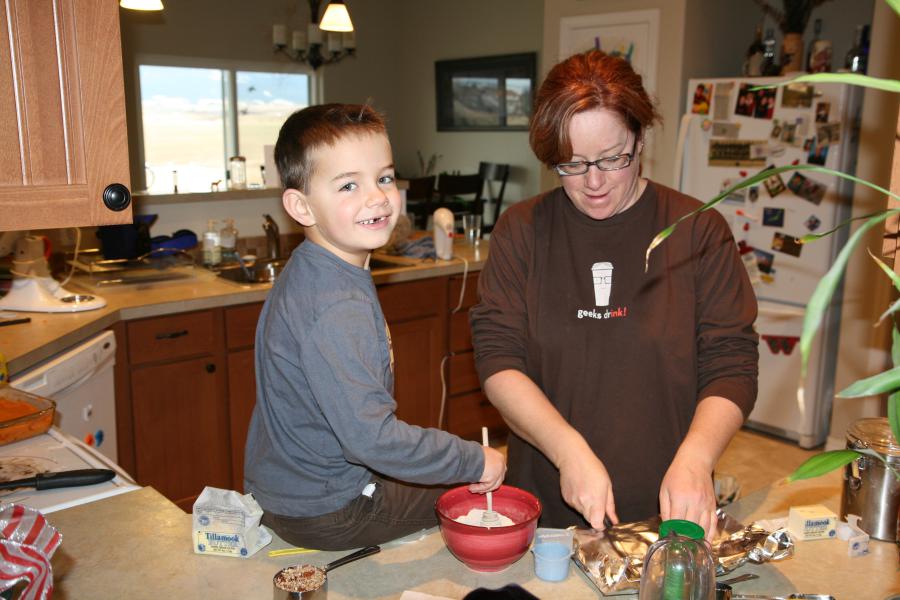 On the way to Lewiston we picked up cousin Levi so he could join us. Colin played with Vivian the GPS and watched some movies while the grown-ups listed to Obama's "Dreams from my Father" on CD. Unfortunately, the short drive didn't give us enough time to listen to the whole book.
Grandma was busy getting the dinner ready, but she still found time for a game of Backgammon. Colin is pretty good, but its hard to remember which direction the pieces go.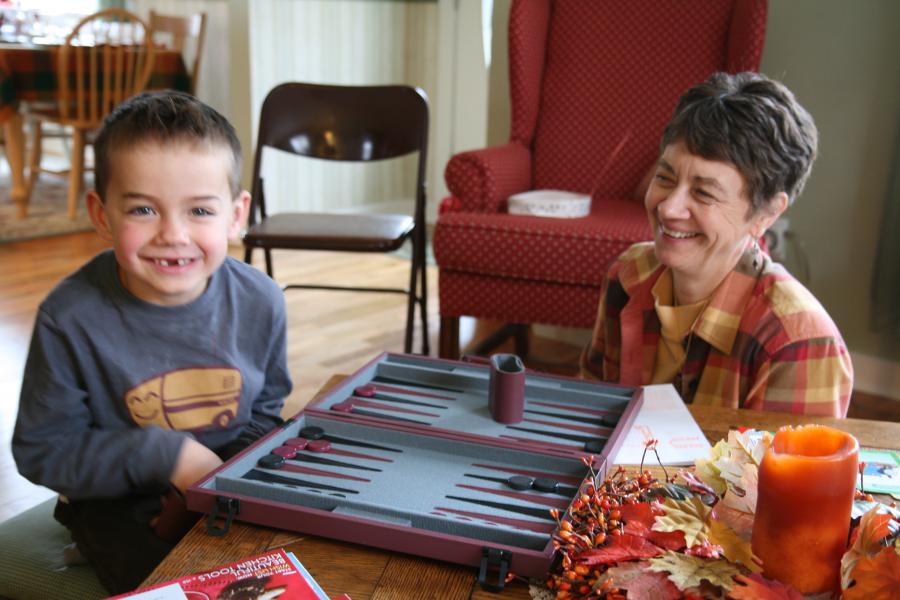 A few of my Mom's friends joined us as well. Jean, Mary Jo, and Cecilia. With everyone arrived, it was time to carve the turkey. Somehow, this has become my responsibility within the last couple of years. I forgot to take my turkey carving refresher course on Youtube this year. But it turned out okay because this particular turkey caved up very nicely and easily.
We all crowded around Mom's table for a delicious dinner. I could be truly happy eating only stuffing and pumkpin pie for Thanksgiving. I think I had three helpings of stuffing, but only one (large) slice of pie.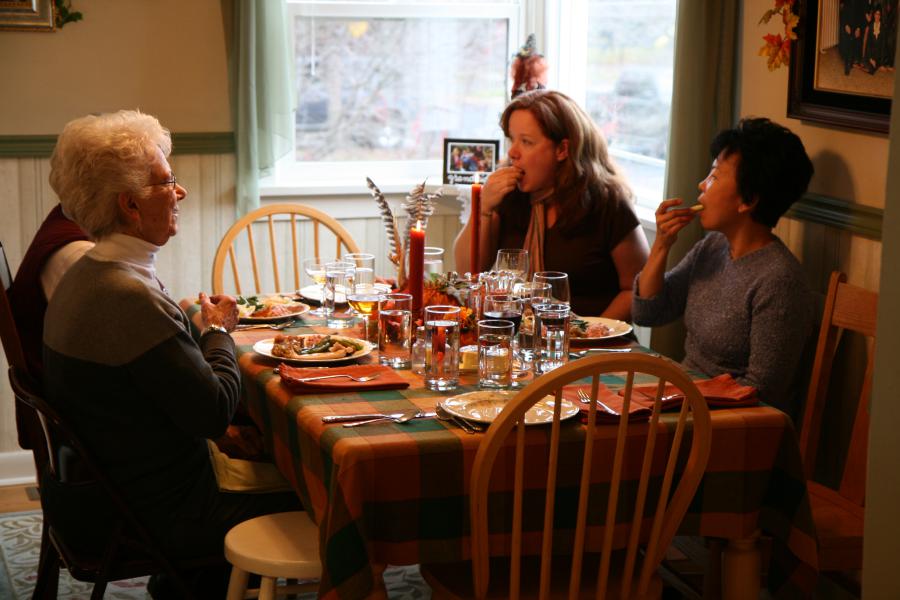 I ate nothing else the rest of the day.
I'm generally anti-black-friday and absolutely hate shopping in crowds. But I was a little taken in by an ad for a $200 laptop. At 5:45 I drove to the local mall and thought I might brave the crowds just this once. The line outside this particular store was about 20 times longer than I expected (which is to say, 250 people instead of 15). I turned around and came home.
Grandma joined us for a mini-vacation to Spokane for a day of shopping and swimming. After a trip to the furniture store, we met Aunt Joan for lunch at Tomato Street. Joan gave Colin a copy of her Christmas spy story, a sketch pad, and box of crayons. She apologized for the lack of pictures in her story. Colin thought he was supposed to add the drawings, but we convinced him that the crayons were for the sketch pad only.
After lunch, Dad and C visted the Looff Carousel, as is our tradition. We rode side-by-side with me on the outside picking rings and handing them to him in the middle. We were both pretty shocked when he got one of the rings in the hole and rang the bell!!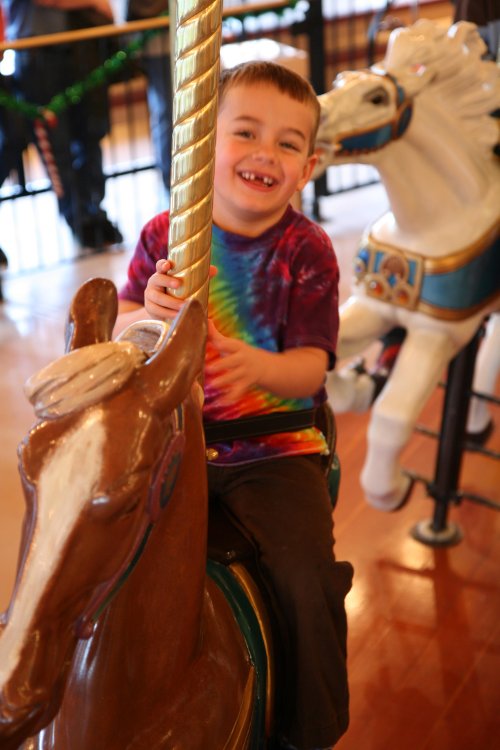 Obligatory shot of the clock tower: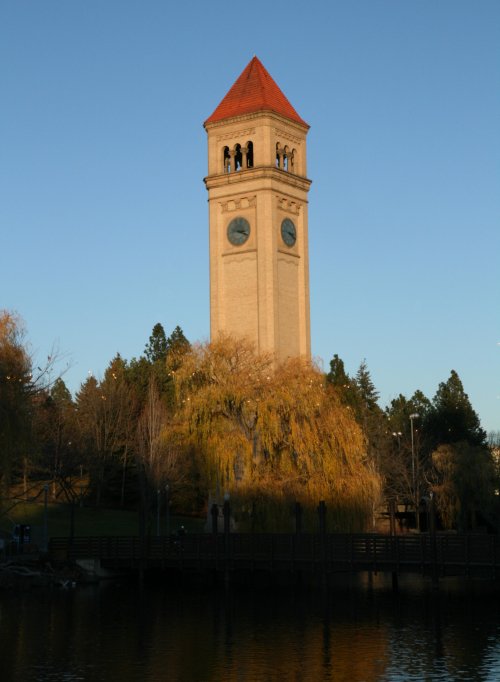 That night we swam at the hotel for a couple hours. Somehow, Colin was able to stay awake (watching TV) until almost 10pm. The next morning, Mom got her Target fix and Colin got some new PJs. We had to hurry home in time for the Vandal football game.
On Sunday, I bought a new ladder and set out to hang christmas lights on our house for the first time. Because of my technique, its slow going. I wasn't quite finished by 3:45 so hopefully I can finish the roofline tomorrow during a long lunch.