Today we visited Grandma's house to check another Christmas tradition off the list: baking and decorating sugar cookies! Santa hats are mandatory, but smiles, apparently, are optional.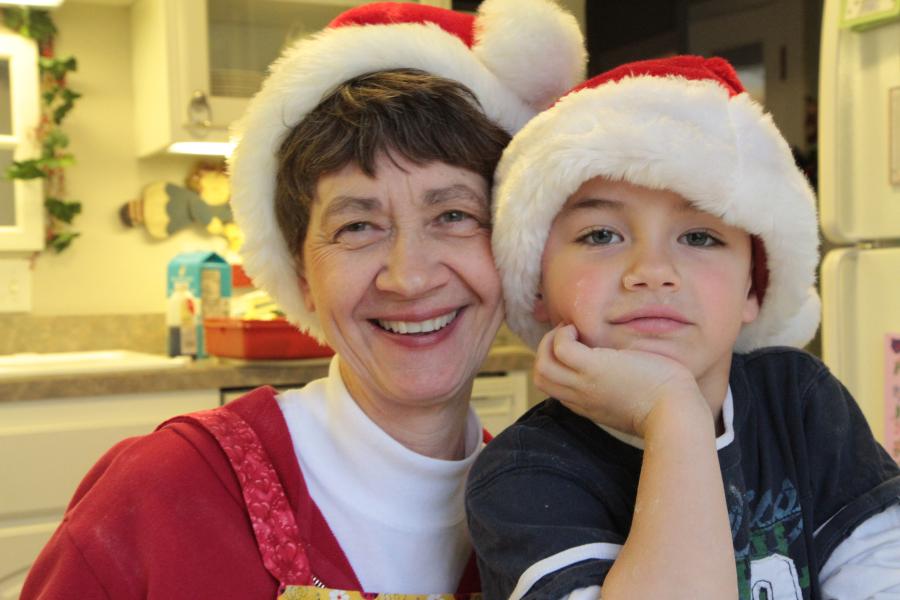 Before starting, Colin read the following blessing:
Gracious God, giver of every good gift, bless these cookies we are about to prepare and share. Make of our home a little Bethlehem, a house of bread, where your love and forgiveness are always celebrated and honored. Open our hearts to welcome one another as you welcome us at your table; open our hands to serve one another as Christ served us; open our spirits to care for, comfort and forgive one another as you do for us without limit or condition. Bless us with your joy as we bake and decorate these cookies today. We pray that our efforts will bless those who eat these cookies prepared with love. We pray that Grandma Kopczynski's generous spirit surround us today as we make a mess of this holy kitchen. We offer this prayer in the name of Jesus, the ever present guest in our home.
The recipe comes from my Grandma, Bertha, and has been handed down via the family cookbook:
| | |
| --- | --- |
| 2 eggs | 1 cup sugar |
| 1 cup margarine | ½ cup sour cream |
| 1 tsp baking powder | 1 tsp baking soda |
| 1 tsp lemon extract | 1 tsp vanilla |
| 3 cups flour | |
Cream the margarine and sugar well, followed by the eggs and sour cream. Then add the remaining ingredients.
Ideally you should refrigerate the dough for a few hours or overnight so that it is cold and easier to work with. Roll it flat (being generous with additional flour) to about ¼ inch thickness.
Cut out shapes with cookie cutters. Don't forget to "dust" the edges of the cookie cutters in flour and give them some extra wiggles before extracting.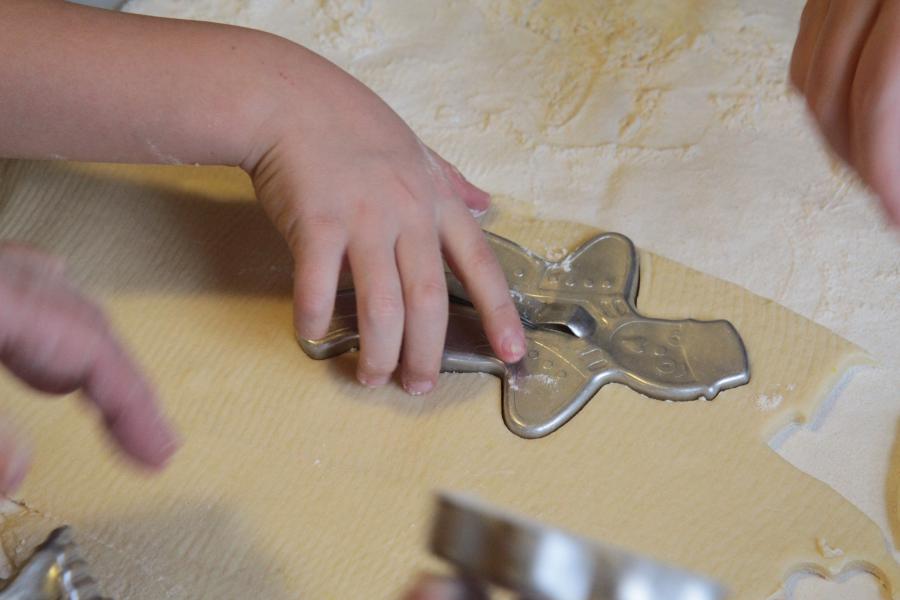 Place the shapes onto a greased (margarined) cookie sheet. If all is well you'll be able to shake the dough out of the cutter and plop it onto the sheet. If the dough is too sticky you'll need a spatula to move it.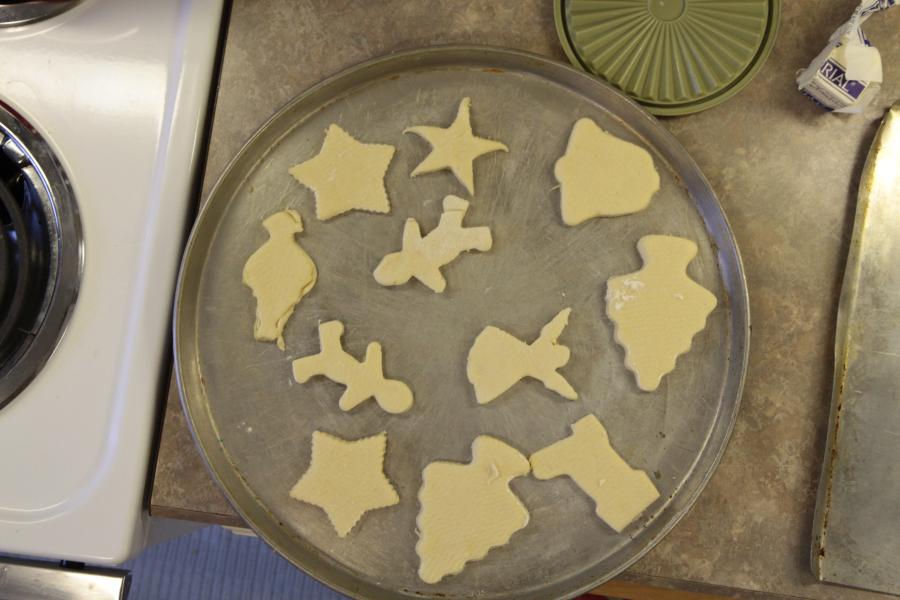 Bake for 10 minutes at 350°F. If you have Grandma's touch, they'll come out just right. Not crispy, but firm enough to hold shape and apply frosting.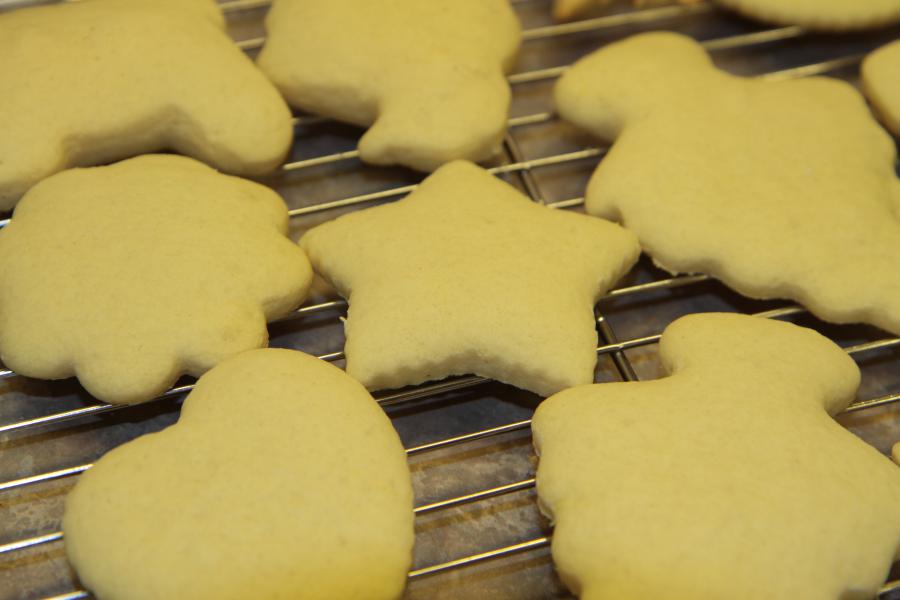 Whip up some basic frosting with powered sugar, milk, and a little butter. Apply sprinkles right after the frosting.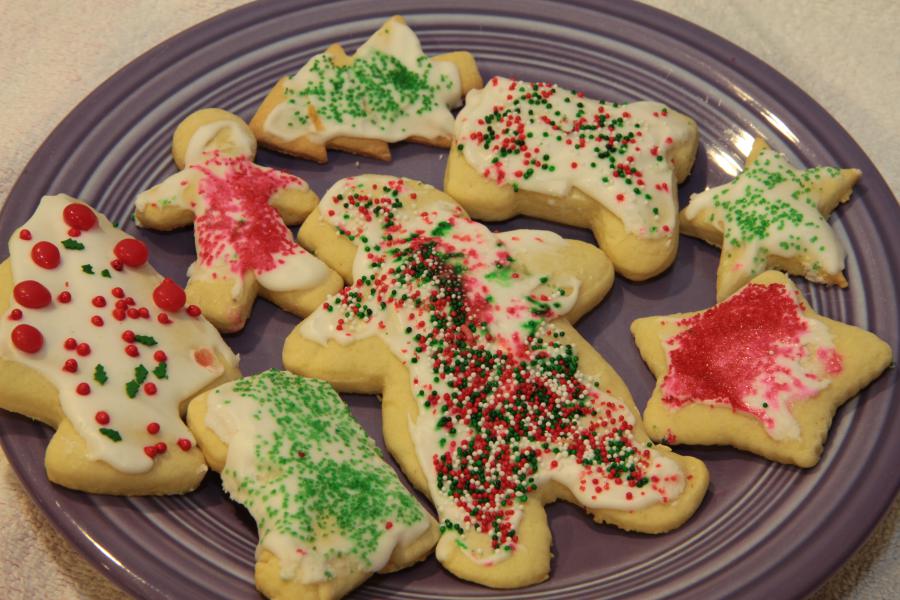 Pro-tip: If you're trying to show them off (rather than just eating them) take the picture before they suffer being transported in a box!