Saturday, following the DNS-OARC workshop in Beijing, my friend Sebastian and left ourselves a day of sightseeing. We wanted to see the Great Wall, despite some of the locals trying to talk us out of it. They said we should go to the Forbidden City instead, plus it would be very cold in the mountains.
We hired a taxi to take us to Mutianyu for the day at a cost of 600 Yuan. We were told its about an hour and a half drive from Dongcheng. The air quality in Beijing was pretty bad. We were hoping that by getting out of town, we'd have clear air and good views. Along the way it did get better, becoming just fog.
At this part of the Great Wall, you take one of two Gondolas from the parking area to the wall itself. On the way back you can slide down a tobaggan. We declined that option and paid 50 Yuan for a gondola return ticket.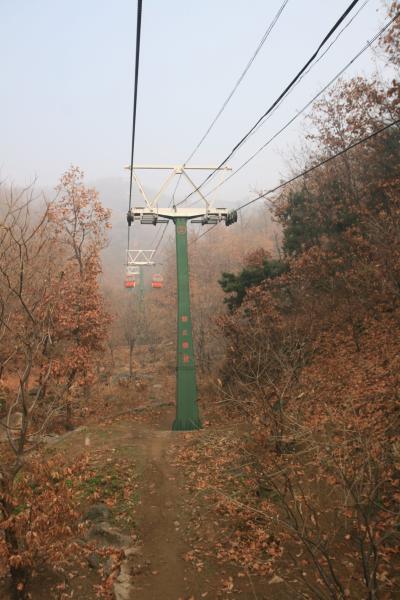 At the top, after getting off the gondola, but before reaching the wall itself, is this lovely monument: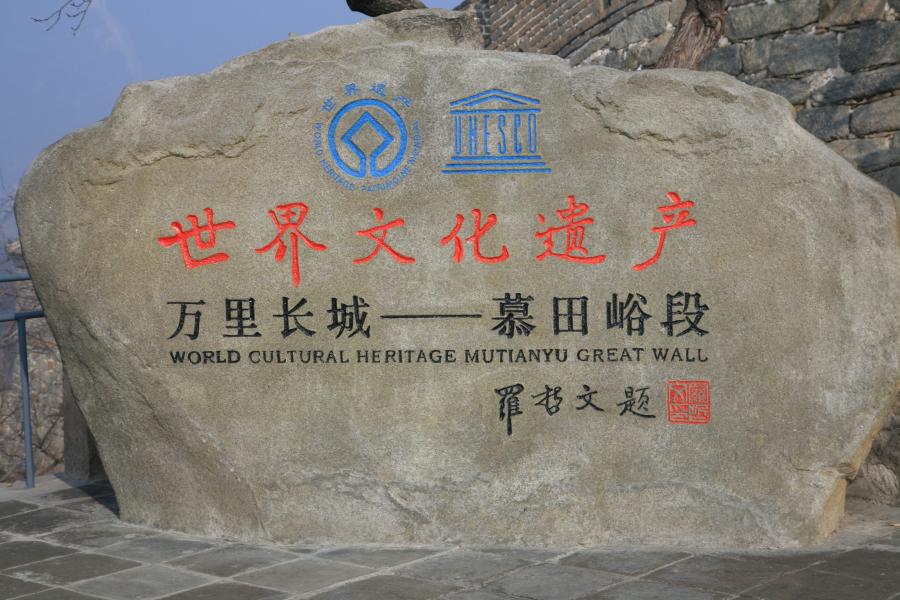 When you're still on the gondola you get your first view of the wall and it sort of takes your breath away, even in the fog.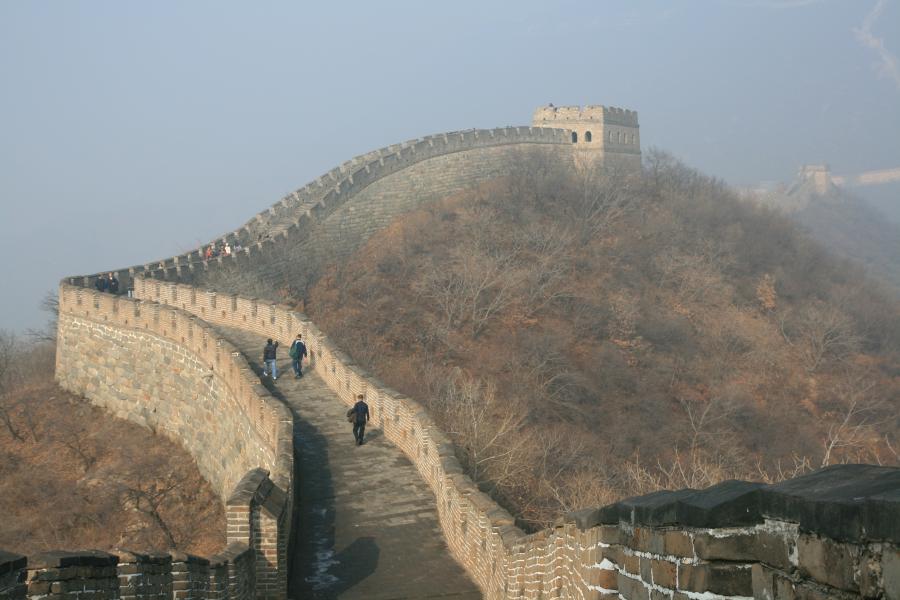 Why should Chinese grafitti make me laugh?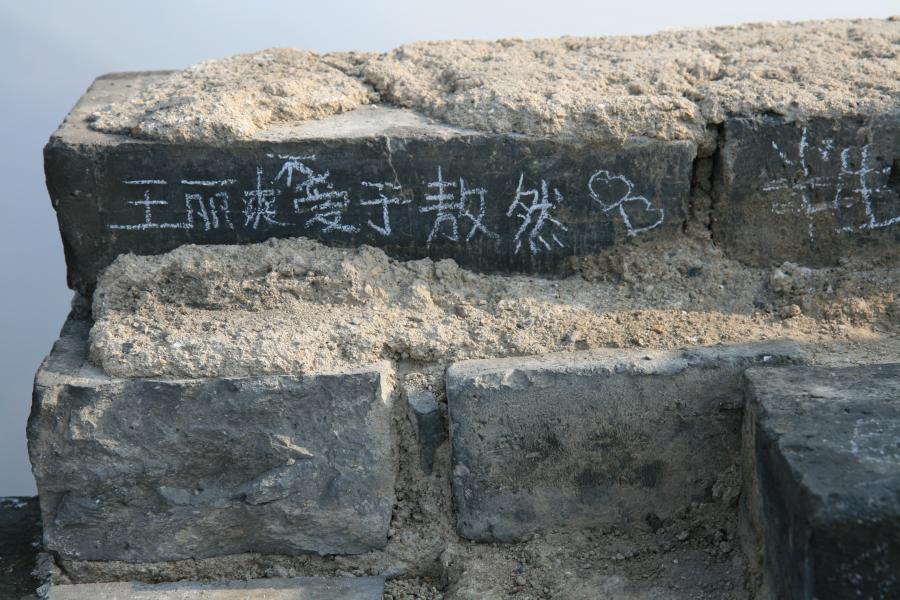 At this point we begin to see, off in the distance, a large incline section. It doesn't come across well in this hazy photo.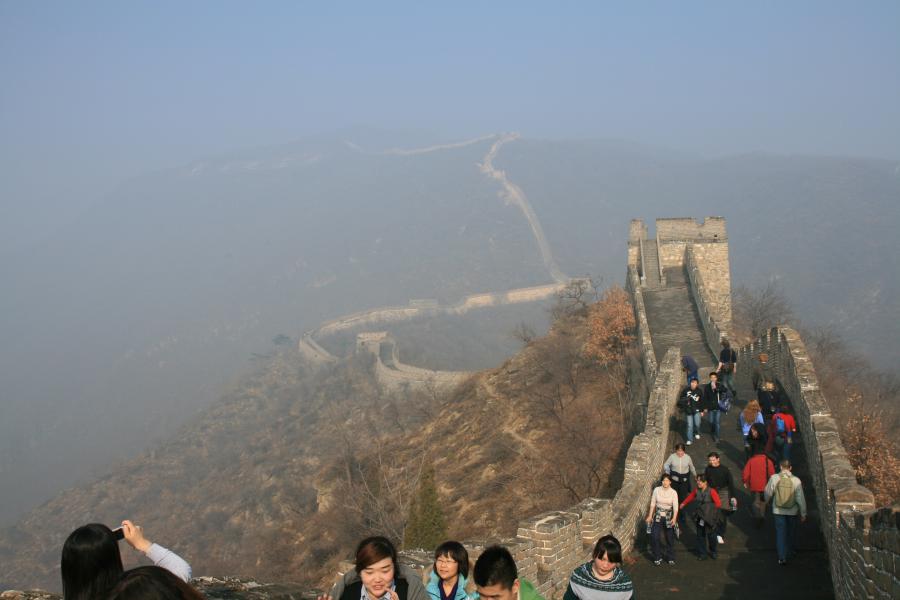 By this time in our hike, it was clear that we would not be cold. It was quite warm, even without the workout from walking. Both sebastian and I had two shirt layers plus a jacket. We ended up carrying our jackets the rest of the hike.

Beijing had its first snow on Monday, the day before we arrived. Still some remnants left in the shadows.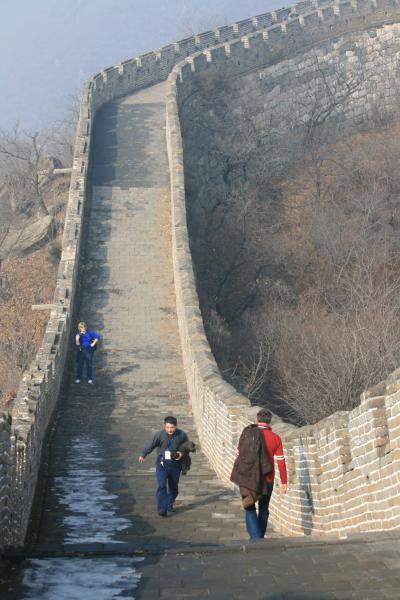 A better view of the steep incline area. There were no markers or good maps, so we didn't really know how far or high we could go on the wall.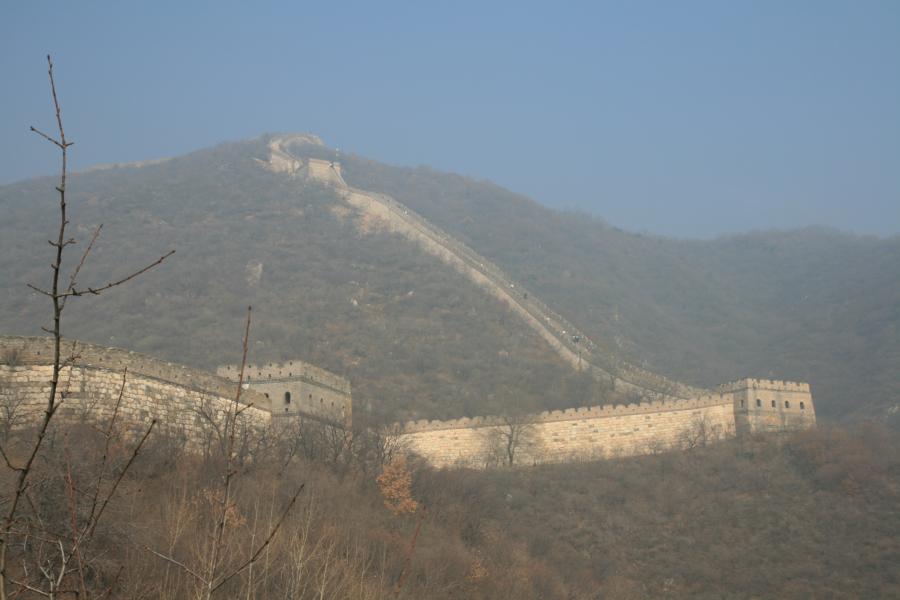 A look back in the direction we came from.
Each of the towers tended to be a little bit different. On some of them you could climb up to the "roof" via steps or stones that people placed there. Some didn't have any roof.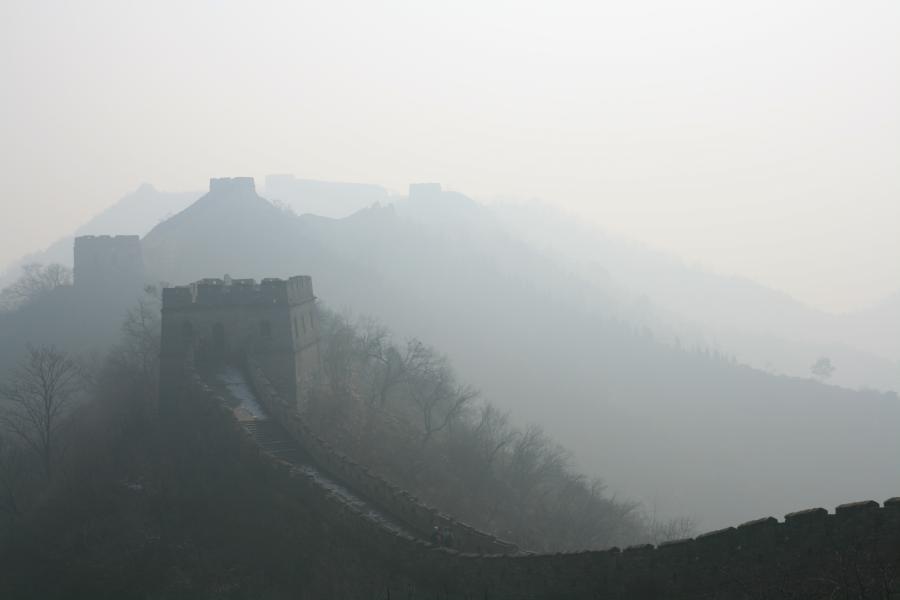 Getting closer to the steep part. We knew it would be tough!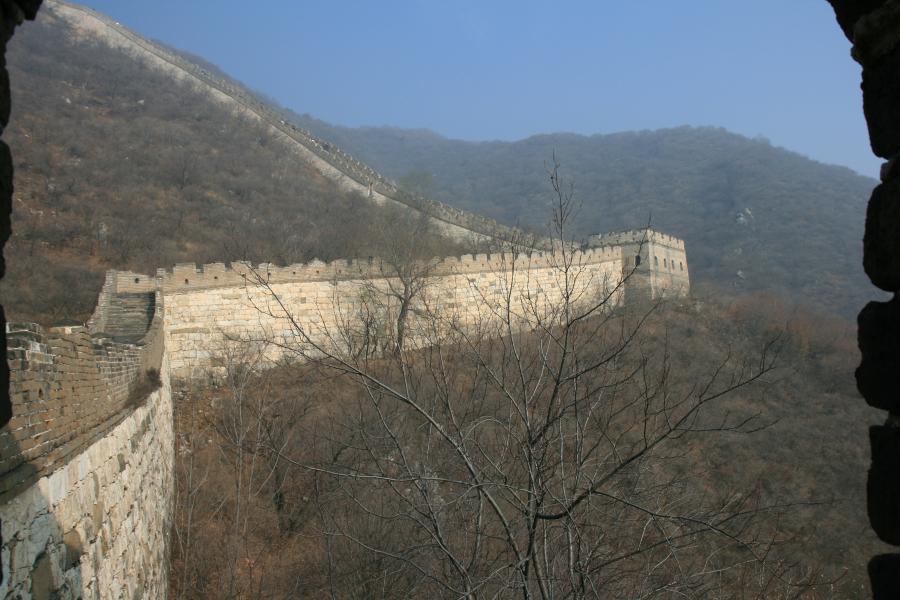 Here we are at the tower, just before the long stairway. Off to the side (not in the picture) was one someone selling water, beer, and snacks.
Since we saw blue sky above, we were still optimistic about getting above the fog. Spoiler: that never happened.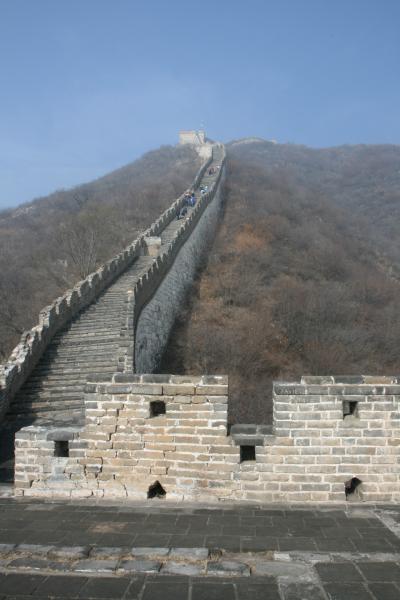 For the most part, our path on the wall so far had been very smooth. The stones were very flat on top. Here, however, was something different. I'm sure its not even close to the original, but maybe at least from an earlier restoration.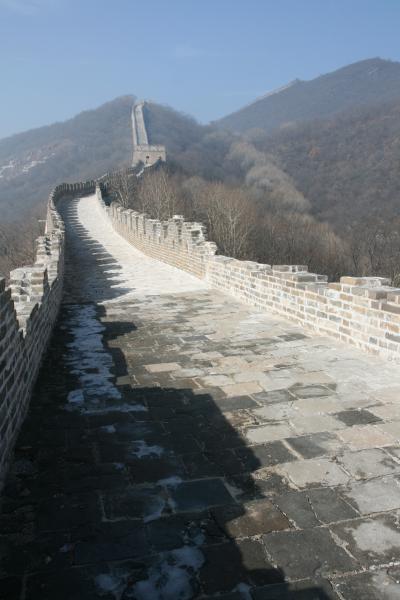 At this point there is a fence of some sort and the path changes abruptly from nice to looking like it has never been restored. Later we saw on a map that this is tower #20 and beyond it is marked as a non-tourist area. We saw very few other people after this point, passing maybe just one or two parties coming the other direction.
I enjoyed this part quite a bit because it was more exciting and fun to imagine that the wall was somehow more authentic here. I suppose in reality this section, too, had been restored at various times, but not as recently as the "tourist area."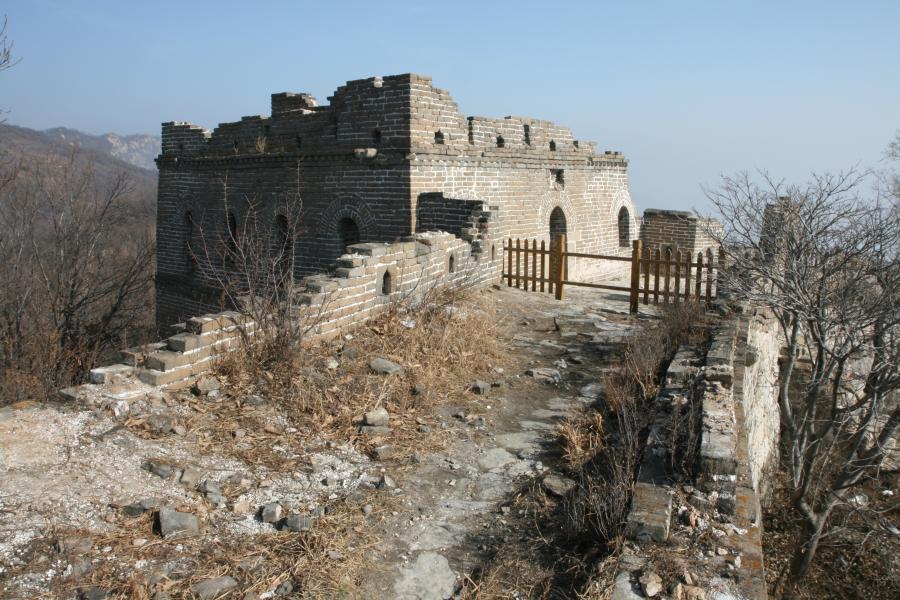 There was so much plant growth on top of the wall that it was hard to see where it went very far ahead. Notice that there is another steep incline here, towards the top right of the picture. The top of that incline is as far as we went.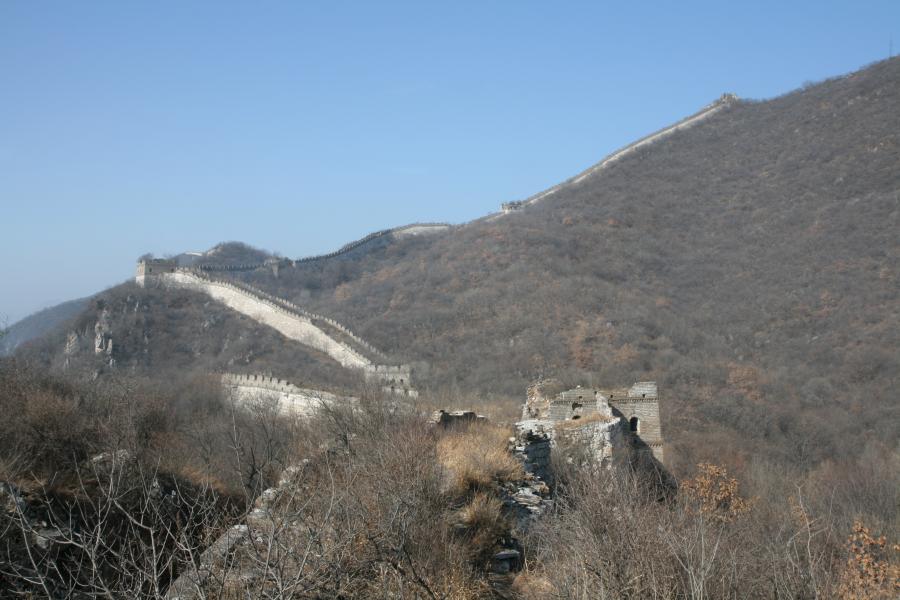 Sebastian stealing my shot.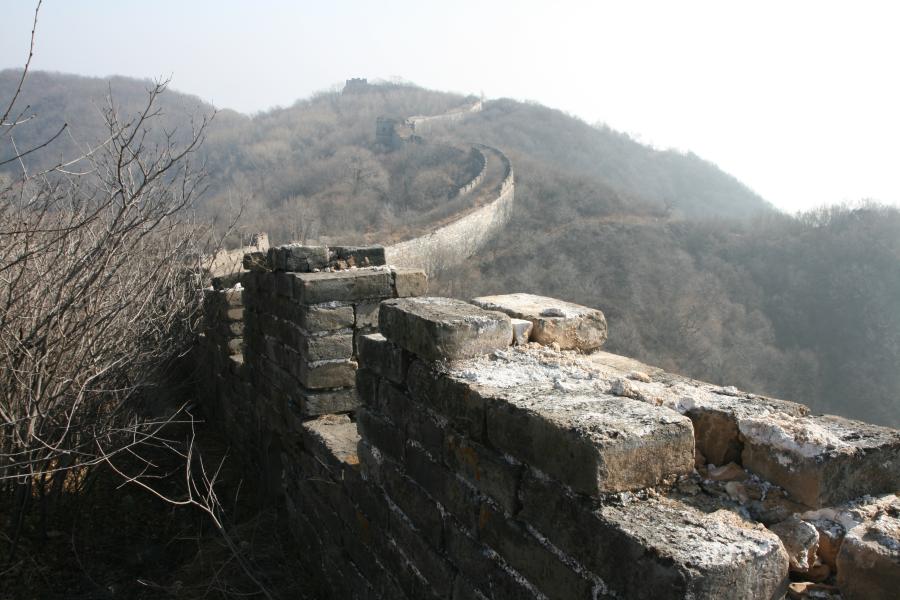 Here in the non-tourist area, the path was very narrow with thick brush on either side.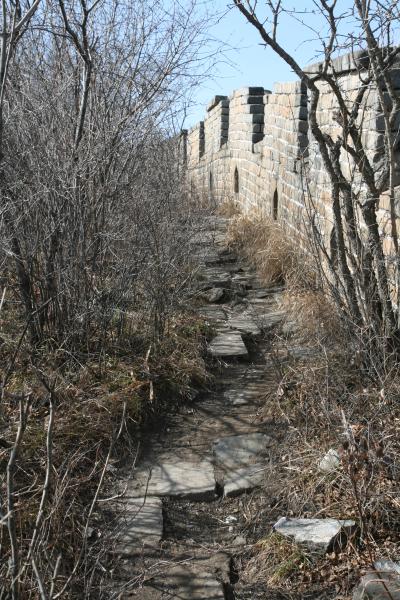 Again, the top in the picture below is as far as we went. We first agreed to go as far as that tower about half way up the hill. But once we got there we couldn't resist going all the way to the top.
On our way down we chatted briefly with one of the men selling snacks. He asked if we went to the top. We asked what the top tower has a name. At first he thought we wanted to know his name, but then made a gesture with horns on his head and said a word that sounded like "Bull."

the incline here was particularly difficult to hike, especially in my non-hiking shoes. Unlike the first incline, which was just a big staircase, this one was uneven and slippery. But it was even worse coming down! I thought my toes were going to burst through the front of my shoes. Maybe that is what it feels like for women to wear high heels?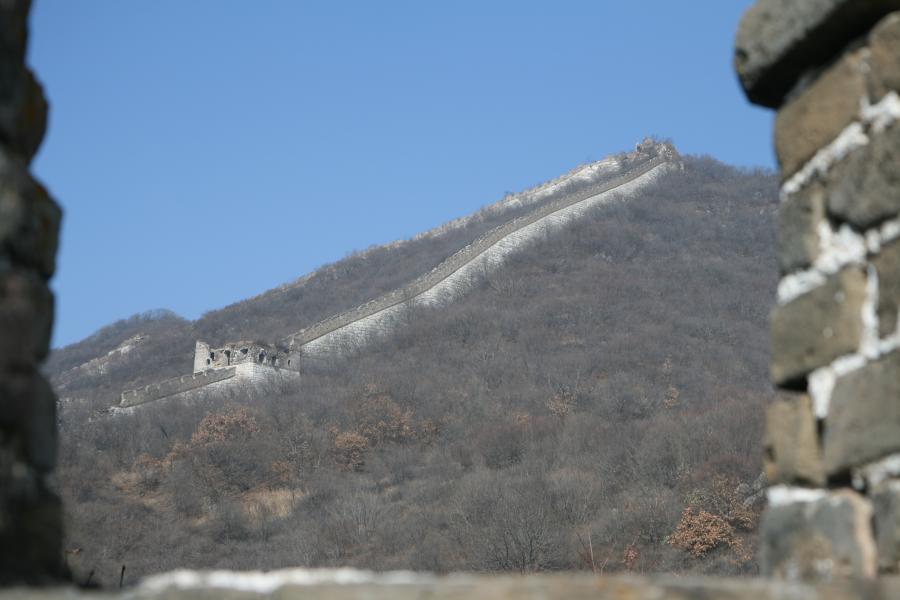 We didn't hike on this part. After heading up to the top of the hill, the wall comes back down sort of close, kind of like a big U-turn. You can see a short-cut path that some people have taken to skip the steep part of the wall.
Off in the distance the wall continued as far as we could see through the haze. I'm sure its really amazing on a clear day, and probably very nice when all these treese still have their leaves.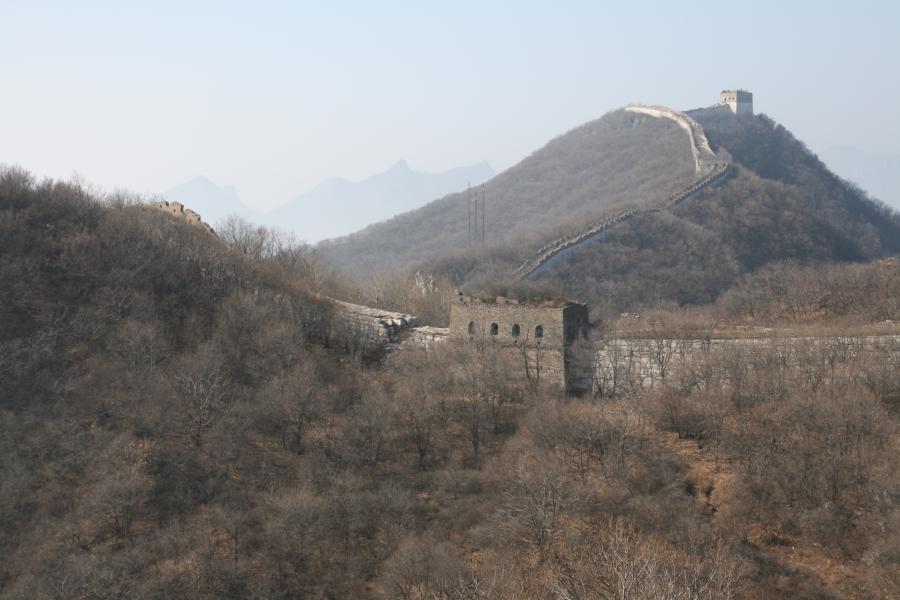 On the way back down now. Our legs were feeling quite rubbery. This is the view at the bottom of the first steep incline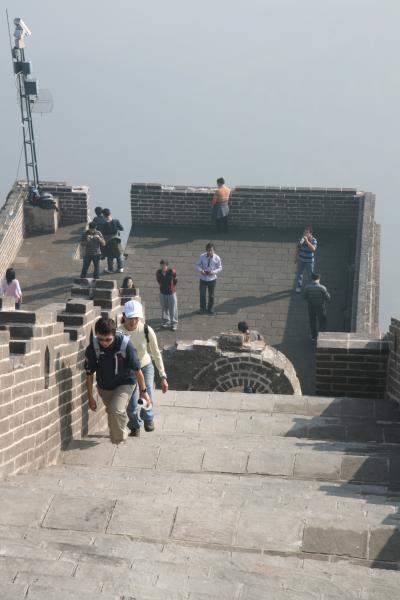 At the bottom, after getting off the gondola, we are harassed by an endless number of vendors, all selling exactly the same stuff. Shirts, bags, hats, panda bears, pictures, etc. Every one of them said almost the exact same words: "Hello sir, you buy t-shirt? Two for one dollar!" There is no way to avoid them. I don't know if they actually accepted US dollars as currency. Sebastian made the mistake of expressing interest in something and was lucky to escape unharmed.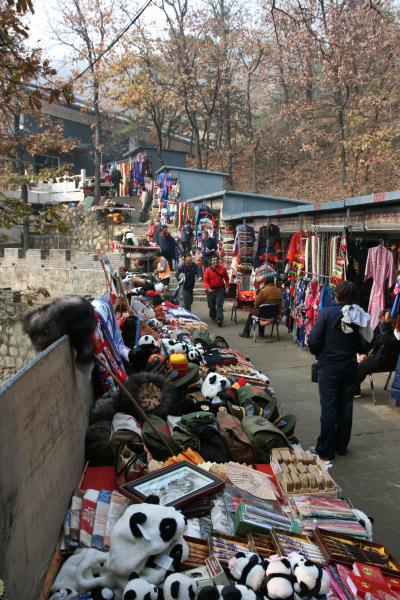 We were pretty dang-ol-tired. We found our driver's car and he eventually found us too. Before leaving we mentioned (through the translator at the hotel) that we planned to be back by 4PM. I think he took it as a hard deadline and drove fairly agressively all the way back to get us to the hotel in time.