Today I wanted to make some curtains for my office. Picked out some fabric and brought out Mom's old sewing machine. It's kind of an odd thing, but seeing, using, and smelling this old sewing machine brings back vague but happy childhood memories. I remember being fascinated by its knobs and its mechanics -- the way that the take-up lever goes up and down, winding and unwinding thread onto the bobbin, the way the foot lifts up and down, and the way it moves the fabric forward. I find the sound comforting as well. As a kid I must have driven Mom crazy by pushing the various buttons and changing all the settings.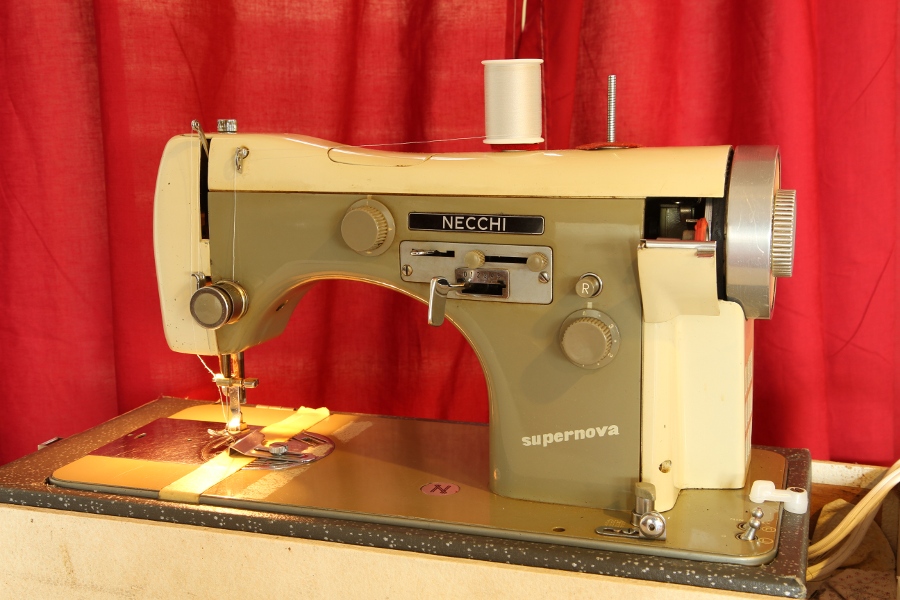 I didn't dare change any of the settings today. It was working well enough. The light bulb still works, and yes, that's masking tape holding things together under the needle. But the old machine is finicky. Sometimes it needs a little help to get started. The first few seams that I made are sort of bunched up. I learned that you have to help pull the fabric through. We have a single spool of white thread and the curtain fabric is red, but that's okay.
My worst fear was that the bobbin would run out of thread and I wouldn't be able to get it going again. That didn't happen until the very very end, but the needle did fall out in the middle of a seam on the second set. I don't think I put it in right because after that it wasn't working quite the same.