Today is a very sad day. We said "goodbye" to our faithful dog, Blue.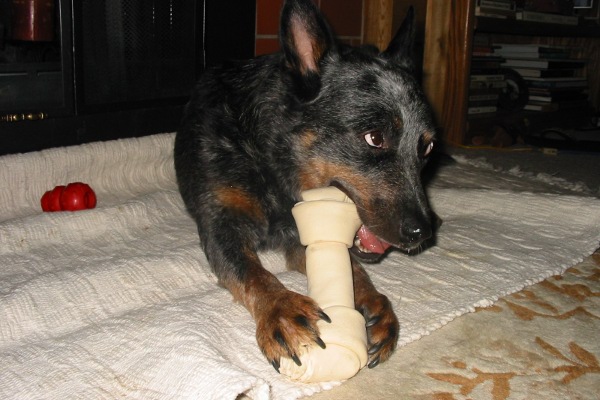 Blue came to us through a Blue Heeler Rescue group in Colorado. We initially signed up to be "foster owners" but we both knew very quickly that we wanted to keep Blue.
We didn't know his history, but it was clear that he was anxious when left alone. We tried a crate for a while, but that was no good. He barked all day while we were gone, annoying our condo neighbors. We set up a "dogwatch" digital camera to take a picture every 5 minutes so we could monitor him from work. Sometimes the camera caught him in an amusing pose.
Due to his anxiety, we couldn't leave him at home alone very long. He spent a lot of time in our car. Anne would leave him in her car at work with the windows open. On shopping trips and such, he'd hop in the front seat and wait for our return. You can imagine how nice the car smelled. A little moisture adds an extra aroma.
Blue loved to go to the hardware store with us, especially McGuckin's. He knew that the employees wearing the green vests had doggie treats in their pockets. He's sit in front of them and drool. In his younger days he loved chewing on rawhide bones and, especially, pigs ears. yuck!
Food was never safe around Blue. Numerous times we'd get groceries and leave them in the car, only to find that a loaf of bread had been devoured in our absence. He didn't like vegetables though. At home he would reach up on the counter and take whatever he could. He once helped himself to a box of fancy chocolates from Holland.
The highlight of every one of his days was going for his walks. He would pace and follow one of us around until we went outside for the walk. In Colorado he got many long walks, sometimes at night. As a youngster, Blue was often eager to chase critters, such as squirrels and racoons. On one occasion I (mistakenly) encouraged him to go after a racoon, not realizing the strength of his determination. He yanked the leash out of my hand and I got a rope burn on the other for my misdeed. He tussled with the racoon and Anne was sure that he was immediately infected with rabies.
Somehow, he never really learned to "do his business" by himself. We couldn't just let him out the back door. It had to be on a walk, and often, in my experience, in front of a neighbor's house. As he aged his walks became shorter and fewer.
Blue especially enjoyed walks in the snow. He'd run and frolic more, and also enjoyed eating the snow for some reason.
From the start we heard that Heelers like to be close to their owners and this was certainly true of Blue. He especially followed Anne throughout the house wherever she went. He had some sort of internal Anne-proximity detector that would go off and wake him from a deep sleep whenever she moved to a different room.
In recent weeks we noticed his walk became even stiffer, and his carpet vomits even more frequent. On some occasions he was in too much pain to walk into the house. We tried drugs for a while, but it was clear that he was not really improving. So the difficult decision was made.
We love you Blue, and we hope that you enjoyed being in our family as much as we enjoyed having you.