Just returned from a work-related trip to our old stomping grounds, Boulder. The flight arrived in Denver with a slight delay due to snow. I had planned to take the RTD bus from the airport to Boulder, as I have done hundreds of times while living there. Unfortunately, this brought back only bad memories of standing in the cold waiting for a bus that was 20 minutes late, not knowing when it might choose to arrive. I gave up and got a rental car, trading abuse by RTD for abuse by Hertz. The drive to Boulder was pretty exciting in the small (oh, excuse me, "midsize") rental car with lots of slush and blowing snow on the roads.
After our meeting ended, A bunch of us went to the West End for beers until about 9:30. Walking along the Pearl Street Mall back to the Boulderado, it was eerily quiet. Maybe it was the cold. Or, more likely, maybe the student's weren't back yet.
It was impossible to not notice how pretty the Boulder Theater looked with its lit marquee, dangling Christmas lights and spectrum of colors. So at about 10pm I went back out with my camera and got some pictures of it that I like quite a lot. Fortunately, due to the lack of people, there were no cars parked on 14th Street.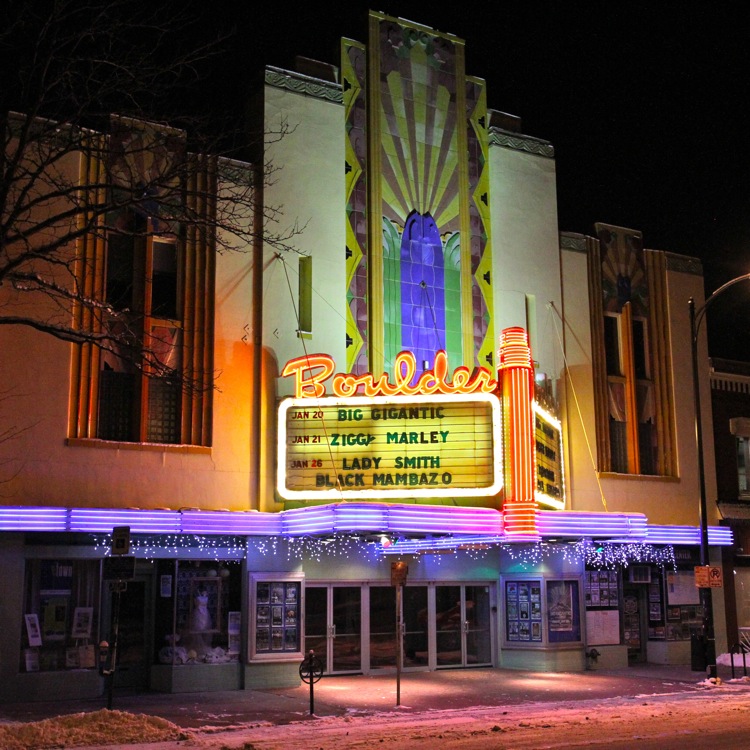 After the photo shoot I warmed up with some hot chocolate and delicious apple pie at the Corner Bar. In the following days I managed to visit a number of other old favorites, including the Mountain Sun, Snarf's and McGuckin's.
The highlight came on the last day when Alex and Mariya invited myself, Scott, Bronwyn, and Ken and Mary (just back from Europe) over for an exceptional authentic Russian dinner and new home tour. I managed to eat the minimum required number of dumplings, so as not to insult the hosts, but I think I had a few too many chocolates.