This week I was in San Diego for the 54th NANOG Meeting. I serve on the NANOG Board, which means there is almost no free time for sightseeing. Nearly every breakfast and lunch are booked with meetings and social events often happen around dinner time.
One of the social events this time was as the USS Midway Museum — a retired aircraft carrier floating in the San Diego harbor turned into a museum. I don't consider myself a military buff, but I have to say I was a little excited to see it.
I brought my camera and tripod and spent the entire time walking around and taking pictures. There were food and drinks below deck, which I missed entirely.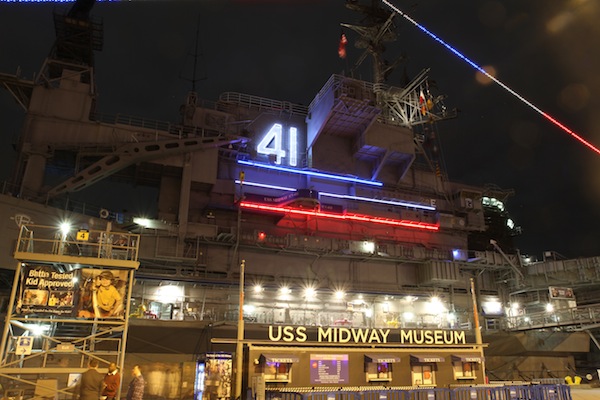 This was the first carrier built after World War II, and is named after the battle of Midway Island. The large "41" indicates that this is the U.S. Navy's 41st aircraft carrier. The Midway was active from the Vietnam War to Operation Desert Storm.
In addition to just roaming around the decks, we also got a tour through the ship's Tactical Flag Command Center, where we saw captain's quarters, the "war room," and lots of old-looking equipment. Some people gave the flight training simulators a try and said they were close to losing their appetizers.
Afterwards, I learned that my brother- and sister-in-law, both retired Naval officers, are pals with museum's president! How cool is that?
The rest of the trip was more-or-less uneventful. Lots of time spent at the hotel, another nice social event at a nearby night club. No free shower caps for Anne this time, unfortunately.