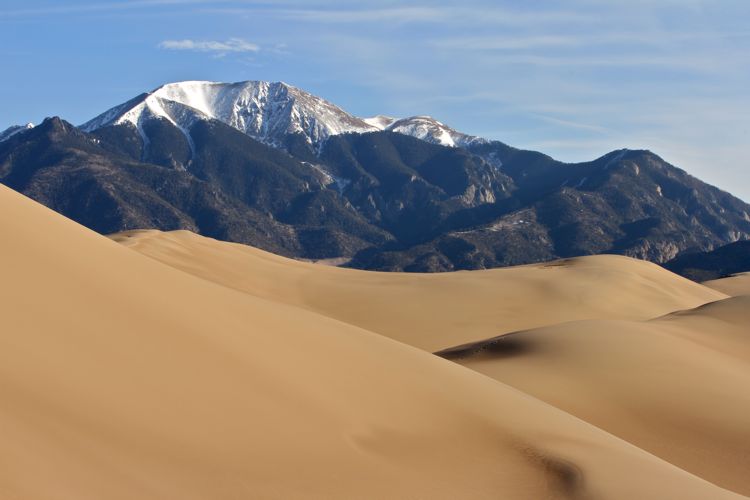 I took many more pictures of the dunes that I like. Please view them on flickr.
Years ago I was passing through Denver International Airport. They have a walkway between the terminal and concourse A. Along that walkway they have art exhibits and that was the first time I learned about The Great Sand Dunes in Colorado. Ever since then I've wanted to go. My wish finally came true this spring break. We came to Colorado and drove to the dunes with our pal Scott and his son Cameron.
The dunes cover about 30 square miles and were created by wind blowing over the soil of the San Luis Valley. The sand is deposited at the base of the Sangre De Cristo mountains, as they block the wind. The tallest dune is about 750 feet above the level of the creek. The one they call "High Dune" is 650 feet high. The dunes are, apparently, quite stable. Stable enough to give names at least. Due to the wind patterns, they sort of shift back and forth, rather than advance in a single direction.
I wanted to get some good pictures early in the morning. I left our Alamosa hotel about 6:00 AM, arrived at the Dunes around 6:45, with just a hint of dawn breaking. I sat in the car for a while, not quite sure when I should start. It was a little chilly that early in the morning. Setting out, I picked out what I believed to be High Dune and decided to see if I could make it up there in a reasonable amount of time.
I had my 7D, 17-55 and 55-250 lenses, and a light travel tripod. Many of the pictures with the telephoto lens were disappointing. I mostly blame the flimsy tripod (which also doubled as a walking stick) and the occasional wind. And I really should've used the remote shutter release. Changing lenses out there on the sand was a bit terrifying.
It was a beautiful day and time for a hike. Very peaceful. I only saw two other people that morning. I managed to reach the top of High Dune around 8:30, which was a good time to be there. There were some thin clouds blocking the sun this day. Had it been clearer, 8:00 might have been a better time to be at the top.
I hurried down and drove back to Alamosa to pick up the rest of the group. We returned to the park at about 11:00 and were advised to hike 20 minutes "upstream" to see Medano Creek. It was more like an hour hike for us (with kids) and became quite windy. The hike back—into the wind—was difficult and uncomfortable. The kids had sort of a tough time. Being low to the ground and wearing shorts didn't help.
I even returned a third time to try some sunset pictures. They were so-so, but I did get a nice picture of a one-horned white-tailed deer.
For anyone considering a trip (with kids), early spring is probably not the best time to go. Although the sand will be hotter later in the year, it should be less windy and the creek should be more accessible.
Even though I had a great time, I still feel like we saw just a small, small amount of what the park offers. There are mountains and lakes and waterfalls and I'm sure many other interesting things to explore, not to mention other areas of the dune field.