This weekend I got to do something that I've wanted to do for quite a while.
I'd heard my Dad reminisce a few times about how, as a kid, he enjoyed riding his horse around the family farm. One of his chores was to move the cows between pastures and to/from the barn for milking, feeding, as so on. A couple years ago, during a stay at a Grangeville hotel, I saw a sheet posted in or near the elevators advertising guided horseback trips in the Whitebird and Camas Prairie area. I took a picture of the poster with the idea to ask them if they might be able to do a trip for us in Greencreek.
A few months ago I finally got around to phoning up LocKey U Outfitters and pitching the idea of taking my Dad on a ride around his old farm. Also phoned up the family currently living there (relatives, of course) and they said it would be no problem. So we set a date for mid August.
We all met at the farm around 9:30. Our guides brought four horses for us, three for themselves, and their dog Morocco. By the time Karen and I arrived, the horses were saddled up and ready to go. Dad rode "Angel," Sue rode "Wildfire," I rode "Oreo," and Karen's horse has a name that's hard to remember.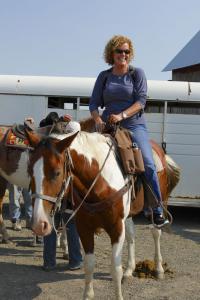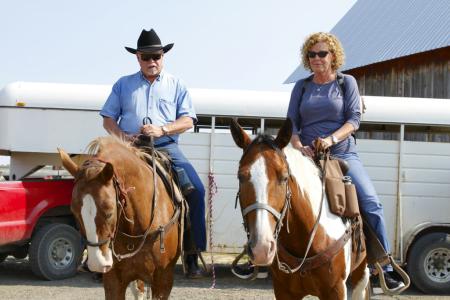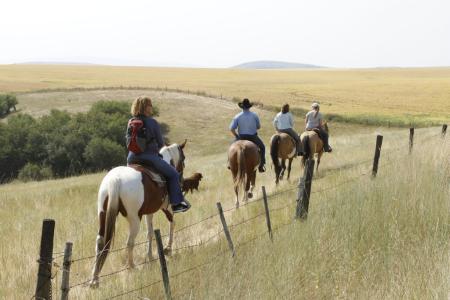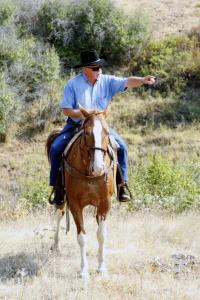 We headed off through the pasture and down into the first little canyon. Then we took a shortcut up the slope back to the top and continued along the fence line to the back of the farm. Off to our left was an impressively steep canyon where we couldn't go.
The horses were really great. Very responsive to the bridle. But for the most part they just followed along, single-file, nose-to-tail. In some spots the ground was rocky or lose and there would be the occasional slip, adding some excitement. A few times Oreo trotted to catch up with the others.
All the while Dad explained about his time on the farm, hunting critters and moving cows between pastures. Back then, the cows were moved from one pasture to another every day. And of course the milk cows were taken to the barn for milking.
The back side of the farm contains a lot of tall brush. We flushed out a whole mess of deer -- probably 10 or 12 of them. They scattered in three different directions. Those that we could see well appeared to be mostly bucks. I thought bucks didn't normally hang out together much. Perhaps it was the "gentleman's club" of the deer world. I also heard our guides talk about turkeys, but I didn't happen to see them.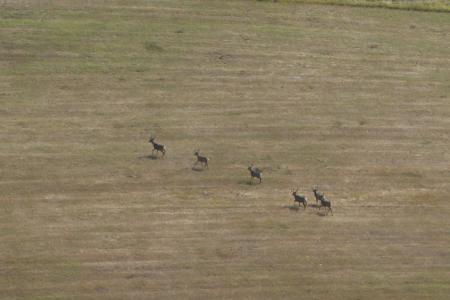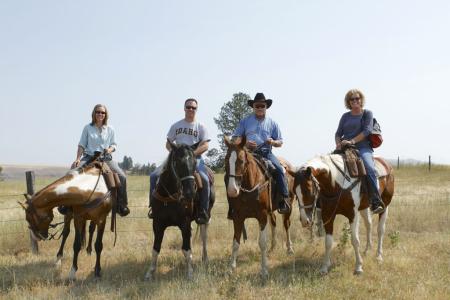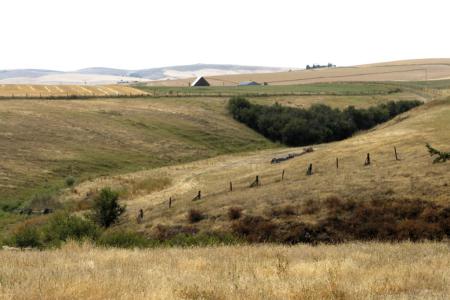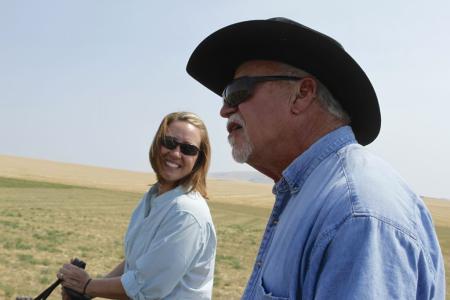 Eventually we found the current resident cows making the most of the scant shade provided by the foliage. Speaking of which, I'm not sure what it was, but a couple of times we had to pass through or under some branches with nice long thorns. A Hawthorn tree perhaps? Had some small, singular purplish berries, but very long and pointy thorns. Sue, unfortunately, received a bit of a scratch on her cheek.
Upon finding the cows, and the highway, we returned along the same route. By now, even though the temperature was rising, the horses were doing fine. I think I confused ol' Oreo once or twice when he wanted to run uphill but I slowed him down. At one point our guide suggested we let the horses trot, so we did. I would've enjoyed that a little more, were it not for the large camera slung to my side.
It was a great little trip and I'm so thankful that we were able to do it. Karen reminded me that we'd been out on the farm years ago (on a truck) during a reunion. I'd forgotten that, but it was really fun to do it on horseback, "as God intended."
Our guides from Lockey U where just wonderful. They had water bottles strapped to the saddles and took care of all the details. And they were especially helpful with taking so many group photos for us. I know the timing wasn't ideal for them, an early Sunday morning and right after the county fair, so we really appreciate their time and effort.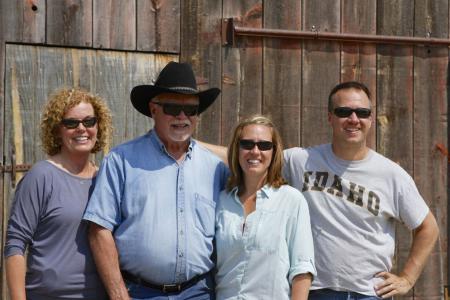 After dismounting, Dad took us through the barn and other buildings where his family kept (and milked) the cows and chickens. They appear to be the original buildings, now probably 80 or more years old. The house itself is slightly younger, having been burned down and then rebuilt by his Dad.
Thanks also to the Sonnen family for letting us invade their space and reconnect with the past.