Colin decided that he wanted Minecraft Creeper Cupcakes for his birthday cake this year. The so-called recipe from that site is pretty terse, but it seemed like something I could handle. Bake a cake, cover in frosting, spray some food coloring, cut out some fruit rollups, and that's it!
Of course, it wasn't quite that simple. Compare the pro's in the link above to mine: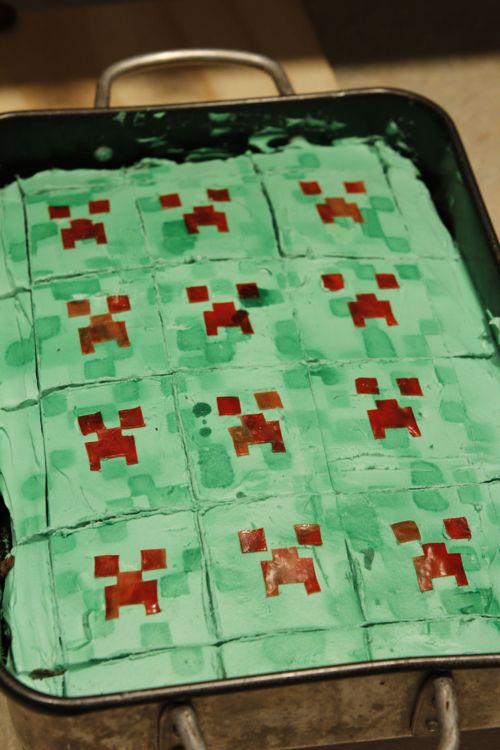 Baking was easy, thanks to Mrs. Crocker. Frosting wasn't so bad either. I even learned what a "crumb coat" is.
The first tricky part was making the green pixels on top of the already green frosting. The idea is to print out a template with some square holes cut out of it. Then you get some spray-on food coloring and spray it through the pixels. You have to hold the template close to the frosting, otherwise you get not-so-square pixels. I sprayed mine in the pan, which is probably a mistake. Might've been better to cut out the cake squares first.
The pro advised to cover the template with tin foil so it won't get soaked by the food coloring. That was good advice. Unfortunately I allowed too much coloring to accumulate on the template and it created some big drips when I lifted it up. Oh well, Creepers bleed, don't they?
But the worst part was cutting out the fruit roll-ups. The pro recipe mentioned fruit leather. Perhaps that particular product would've been easier to handle. The best I could find were some sort of rolled-up sheets of fruit gunk. It was unbelievably sticky. Next time I need to super-glue something, I'll use these fruit roll-ups instead. They come stuck to some peel-off paper, and I covered the other side with wax paper before cutting. Unpeeling the papers after cutting was a nightmare. Even worse was trying to place them on the frosting layer, in just the right spot, without touching or scarring the creepers lovely faces.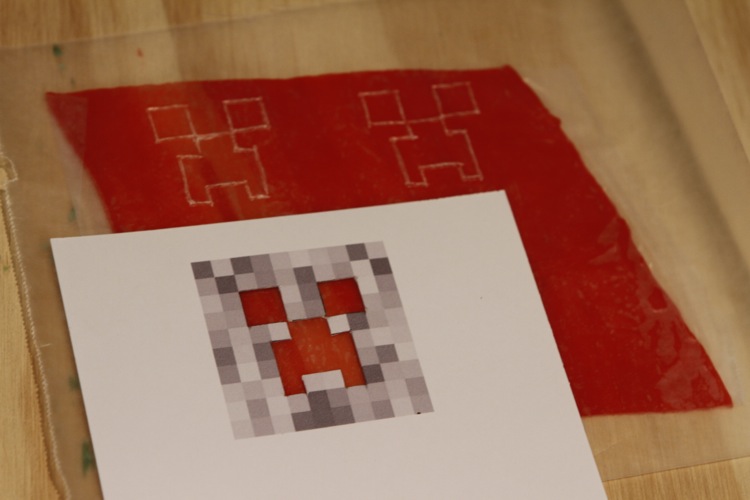 At least the kiddo new that I spent many hours on his cupcakes and was very appreciative!