Mom is cleaning out her boxes of "memories." On a recent visit, a long-forgotten wirebound "Music Writing Book" with my name on it was waiting for me.
I took some piano lessons, but was never very good. I'm sure it had something to do with lack of practice. But I must say, I was quite good at transcribing music!
My writing book contains the following songs. Or at least the beginnings of them: This Land Is Your Land, The Entertainer, Games People Play, Rambling Rose, Spanish Eyes, Snow Bird, and Star Wars Main Title.
The Entertainer is my all time favorite song to try to play on the piano. It's still my go-to song. Some day I hope to be able to play it with both hands.
Star Wars is of course an obvious fascination. The movie came out when I was 10, so its burned into my memory. I never could play the song very well though.
The others--the folk songs--were ones I played on our little electric organ upstairs. That organ was so fun. It had numerous "voices" and drum beats. And it came with this wonderful color-coded song book to teach you how to play all these great songs. I'm surprised that I didn't copy You Are My Sunshine into the writing book. Best of all, the organ had a headphone jack. I'm sure Mom and Dad appreciated that feature.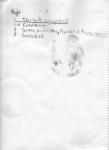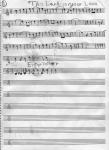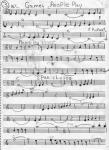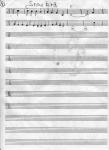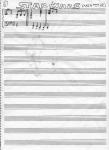 The timing on this disocvery is perfect because Colin is now (again) taking lessons and doing much better than I. He's also learning This Land Is Your Land, possibly for an upcoming performance!